Dreams. We all have them. From the time that I was a young girl all I dreamed about was getting married and starting a family. A small dream, and a cliche dream, maybe, but it was my dream. I was married at a young 20 to a wonderful man, and after a couple of years, we decided to expand our family. At the time, my husband was in the middle of graduate school, and I was working full-time. We figured that this would be a good time as we were currently on school insurance, and the baby would be due around the same time he graduated. We had a job pretty much lined up for him after graduation, that offered fairly good insurance, too, and we thought that this righteous desire would granted us fairly quickly.
However, that was not the case. Months passed. I continued working, he continued schooling, and I was left feeling a bit empty. Negative pregnancy test after negative pregnancy test crushed my spirit. Why could we not have this one thing?
Fast forward about 8 months. Although a pregnancy had evaded us, we still had a good life. We loved where we lived. My husband was set to graduate in about 6 weeks time, and he had a job lined up with the same company that I worked for. We were planning to move to the upstairs of the house we lived in (after almost 2 years of living in the basement!) and we knew that we would be well-taken care of. We would have two salaries coming in, we would have a little bit of a bigger space, and I could work until I got pregnant (and through pregnancy) while we saved up my salary and lived off of his. We could then buy a house using the money we had saved for a down payment. We had everything figured out.
Until a fateful day in early April, when the company I worked for, that my husband was also about to start working for, had to close its doors and laid off every employee. We were crushed and confused. Why was this happening? First, we weren't able to conceive a child, and now neither of us had jobs? We decided not to move upstairs, instead staying in our basement as we were unsure of the future and if we would even be staying in the same city.
A few months passed. We both had a little part-time work here and there but were mostly living off of savings. My husband graduated and began applying for jobs all over the state and throughout other states, too. He applied for a position with the state, in the same city we lived in. However, when you apply to state jobs, all areas of the state are able to see your application, and my husband ended up being offered a job about 8 hours north of us. It felt right, it was a job, and he took it. A few weeks later we had packed up our little basement, and were headed north, towards a duplex we had only seen pictures of and many other unknowns.
We settled in well and quickly. His boss ended up being a member of our church congregation, and my husband greatly enjoyed having him as a boss, and as a friend. He loved his other co-workers as well. He was able to transfer positions within a few months, to a job he liked even better, but that was still in his same department. We felt so welcomed by our church congregation as well, it felt so right to be there.
And then, 3 weeks after the big move, I found out I was pregnant. After 12 months, there it was, a positive pregnancy test. And I cried. For joy and for the knowledge that God knows us and He knows our story. Even though I had wanted a baby a year previous, that baby would have been born during that season of upheaval and unrest, when we had little to no money coming in, while we lived in cramped spaces, searching for our next step. But instead, He taught me patience, and in doing so prepared this little spirit to join us at a better time, even though we couldn't see it while we were in the middle of it.
He knows us. He knows our needs and our wants. And He hears our prayers. But He also knows what the future holds, and because of that, He does not always answer prayers straightway or even at all. Sometimes, like in my case, we discover why down the road. Other times we don't. But if we believe in Him, He will never lead us astray. He will change our hearts and our dreams, if needed, to get us to the best place for us.
Since that summer day when I found out I was pregnant 3 weeks after moving to a completely different city, we have been blessed by that sweet child plus one more. And we have also been led back to the city where we originally thought we would be staying. We had two years in the north, and they were two of the best years of our lives. We don't know 100% why we were called to live there for two years, only to move back to our previous city, but we know that He does. And that is all that matters.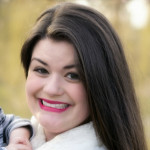 Britt is a stay-at-home momma by day and a blogger by naptime. She's been married to Kyle since 2010 and has two children – Abe (2) and Eliza (5 months). As an introverted extrovert, she loves to read, write and spend time with her family and friends. She has a degree in Human Development, her favorite colors are green, blue and gray, and she considers carb loading a sport. She's a loyal friend, a follower of Christ, and a lover of learning.